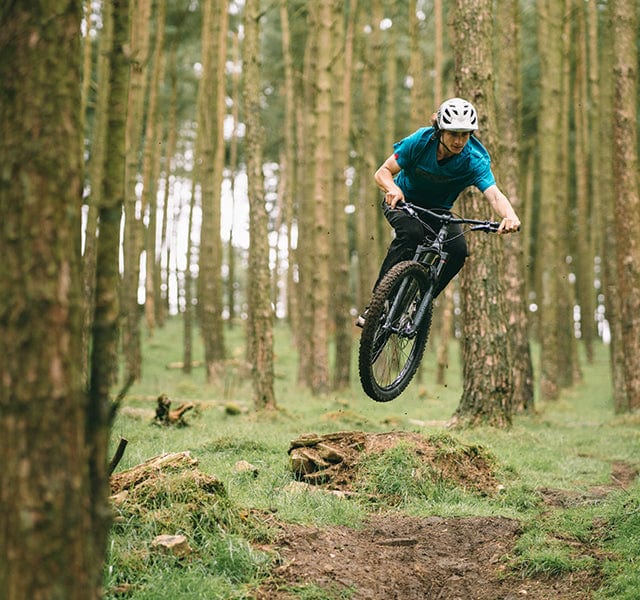 Aggressive 29er hardtail, an awesome all-round hardtail mountain bike. Built for speed on fast flowy singletrack and attacking the big mountains. It pedals like an XC, descends like an enduro, and captures the rawness of riding a hardtail on fast, flowy singletrack. Stand up, sprint, and ride it hard on the groomed trails at Llandegla and Glentress or take it to the big mountains and let loose
Sonder Signal
Introducing the New Signal Steel
Aggressive 29er hardtail, an awesome all-round hardtail mountain bike. Built for speed on fast flowy singletrack and attacking the big mountains. It pedals like an XC, descends like an enduro, and captures the rawness of riding a hardtail on fast, flowy singletrack. Stand up, sprint, and ride it hard on the groomed trails at Llandegla and Glentress or take it to the big mountains and let loose
---
29er hardtail mountain bike for fast flowing singletrack and big mountains
The Signal is for flat out speed. It pedals like an XC bike, descends like an endure bike, and captures the rawness of riding a hardtail on fast, flowy singletrack. Stand up, sprint, and ride it hard on the groomed trails at Llandegla and Glentress or take it to the big mountains and let loose.
That low BB and long wheelbase gives a planted and stable feel through the corners and when tackling high speed descents. The low stack height leaves you with less of that 'tall' 29er feeling – you'll feel like you're in the bike, not on the bike.
Big wheels roll faster. The 29 in wheels can be paired with 2.2 to 2.6ins tyres with clearance for winter conditions.
Choose from steel or titanium.
The Signal Steel rides beautifully – it's got that distinctive steel feel to take the edge off the biggest hits while keeping stiffness where it counts so you can accelerate out of corners and track accurately through rocks and roots.
The titanium Signal frame is stiff, light and durable. 3Al 2.5V Aeronautical grade titanium tubing softens trail buzz and provides the engaging and lively feel that only Titanium can.
---
The Features
2.6" tyre clearance
​Bucketloads of clearance for 2.6" tyres gives you the benefits of higher volume tyres without getting clogged up in UK conditions.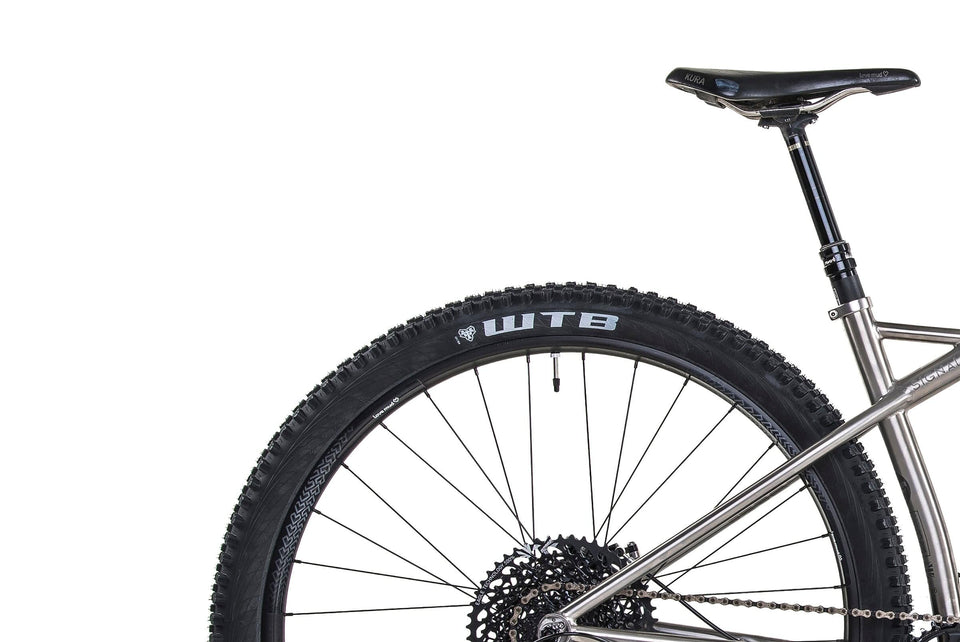 Aggressive trail geometry
​Neil has designed the Signal Ti to suit his aggressive riding style. A low bottom bracket makes it corner like its on rails, a spacious reach gives you room to move around on the bike, and the 66/74 head and seat angles give you the confidence to bomb the descents and while still being able to climb like a mountain goat.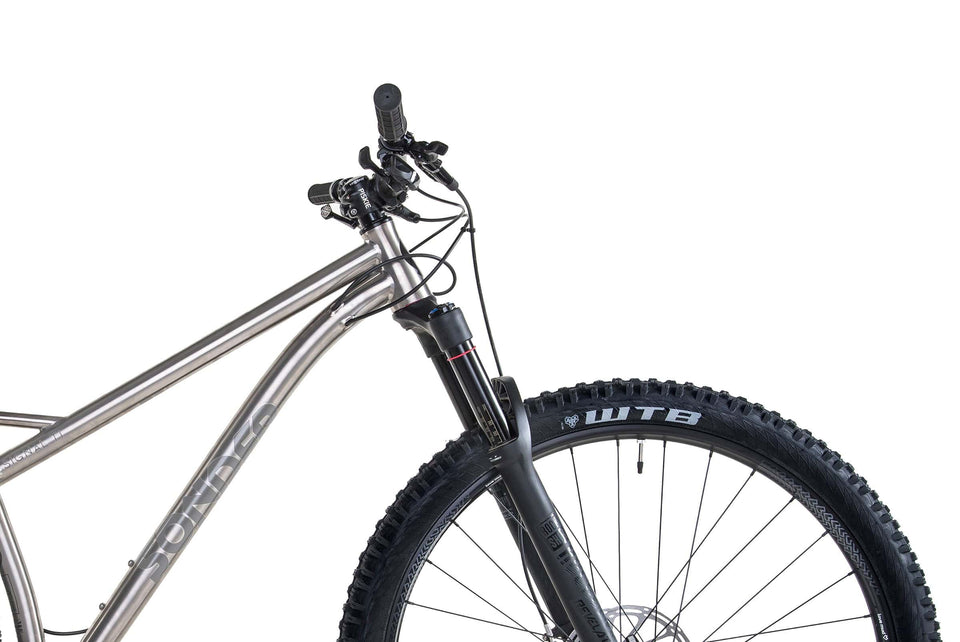 Guided internal cable routing
​Guided internally routed cables for a clean look and silent ride.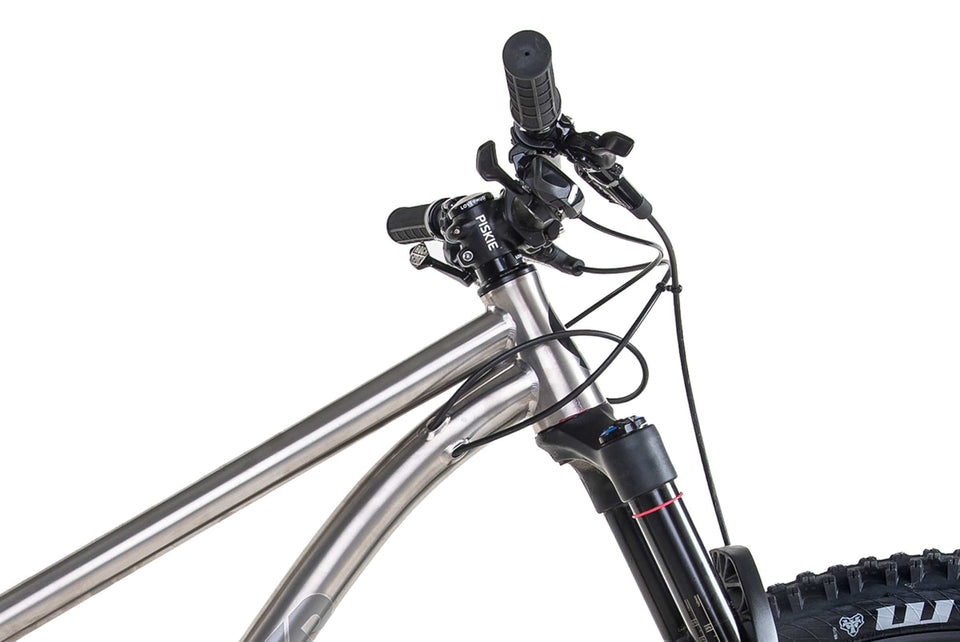 Titanium frame
Nothing looks quite so good as the famously resilient and durable titanium. Signal Ti's aeronautical grade titanium tubing absorbs shock to soften the ride without any loss to feel or speed. ​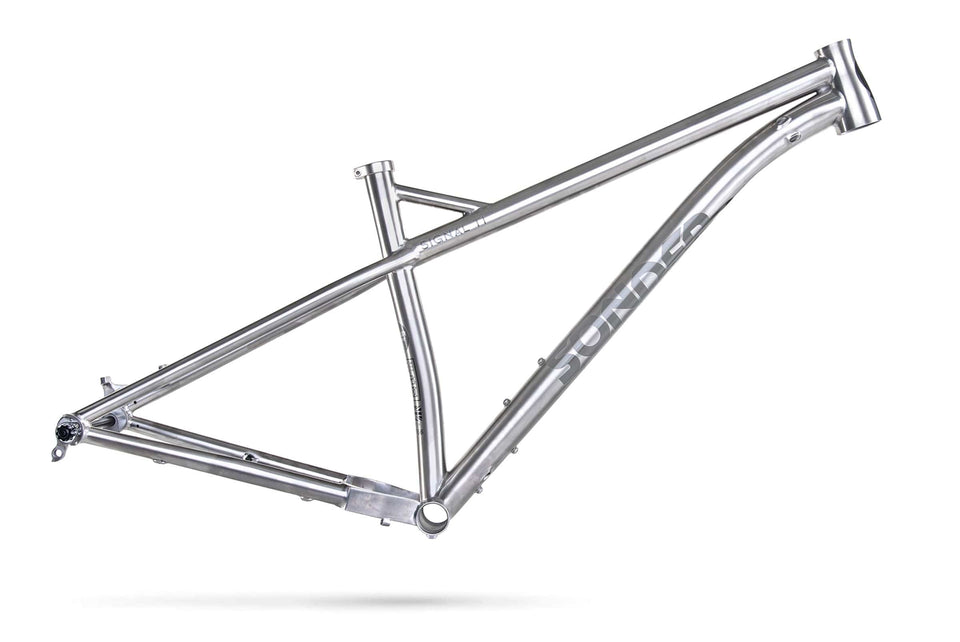 Custom available
​We can customise any aspect of our Ti bikes. Come to us with what you want and Neil will make it happen.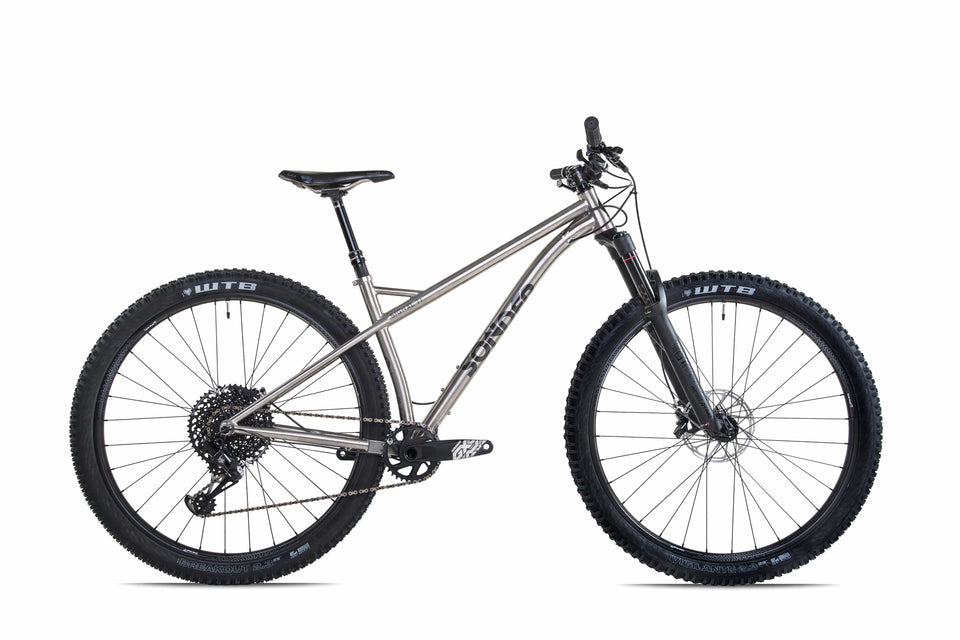 Mountain journal
Grab a brew, kick back and relax with in-depth features, tales of derring-do and Go Nice Place Do Good Things.