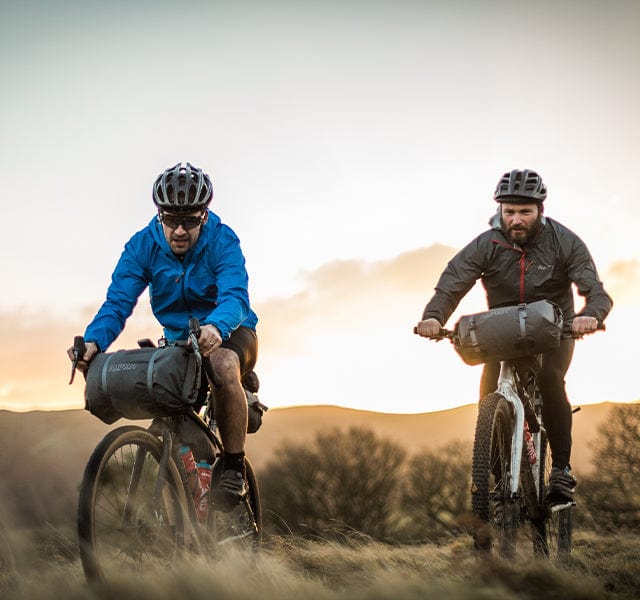 Balanced weight, efficient storage, improved manoeuvrability. Our bikepacking bags are innovative, lightweight and durable. They attach to any bike and are essential for cycling adventures
Bikepacking Bags
Balanced weight, efficient storage, improved manoeuvrability. Our bikepacking bags are innovative, lightweight and durable. They attach to any bike and are essential for cycling adventures
Alpkit bikepacking bags
Bikepacking bags give sufficient storage capacity to carry all you need for extended bike adventures. They distribute weight evenly across your bike frame to help maintain stability and control and a smoother riding experience especially when tackling challenging terrains.
Your gear is securely attached to your bike, eliminating the need for a bulky backpack that can throw you off balance and hinder manoeuvrability. The streamlined bags allow for greater agility when navigating tight turns, technical descents or technical sections of the trail.
Bikepacking bags excel in off-road environments including gravel, singletrack and backcountry routes. They provide a low centre of gravity and minimise the risk of snagging on obstacles or getting caught in branches.
Made in Britain since 2008
We started making bikepacking bags in 2008 and quickly built a strong reputation for innovative, durable and lightweight bags. Since then we've expanded our range adding gravel, road, endurance and mountain bike-specific products alongside a collection of lightweight waterproof bags.
Our bikepacking bags are innovative, lightweight and durable using the most advanced technical fabrics and expert construction. We make them at our small factory on the edge of the Peak District.
We make custom bikepacking bags to your specification letting you fine-tune your rig precisely.
Build your own rig
A rig is a collection of bikepacking bags used together to enable you to carry everything you need on your next bikepacking trip. It typically includes a frame bag, handlebar bag, seat bag and top tube bag.
Explore some of the amazing rigs you can build from multi-day mountain biking rigs to ultralight, minimalist endurance racing rigs to the full-blown round-the-world expedition touring.
A close to home overnighter or multi-day route covering hundreds of miles. Typically the ride may be 25 to 50 miles a day. Loop or through ride. Carrying the minimum needed for the trip. Can be complete wilderness or with refuelling stops on the way. Sonder Frontier is a great bike for multi-day bikepacking.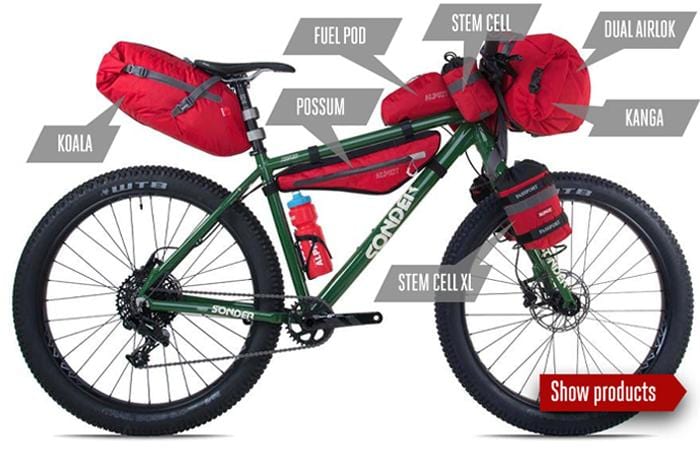 Long distance self supported endurance races like Trans Continental and Tour Divide have become popular with many new races each year. New innovative ultra lightweight set ups have meant people can ride further, faster covering incredible distances. Sonder Camino and Sonder Colibri are great bikes for gravel, road and endurance racing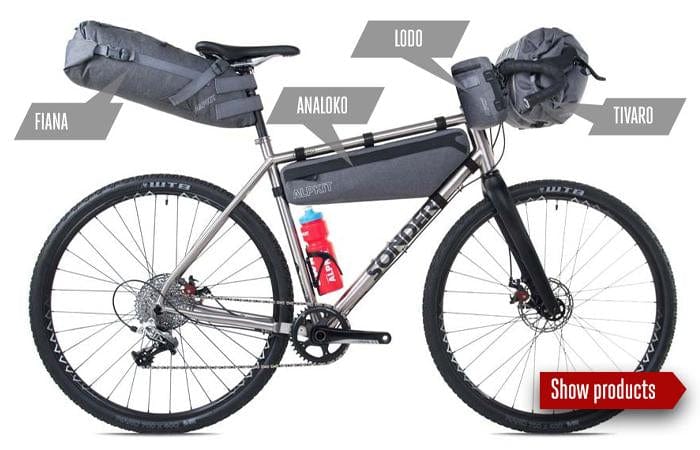 Setting off and travelling the world by bike captures our imagination. And cycling extremes whether it cold, heat or altitude are what dreams are made of. Sonder Broken Road and Sonder Vir Fortis are race-proven bikes for wilderness, racing and world travel.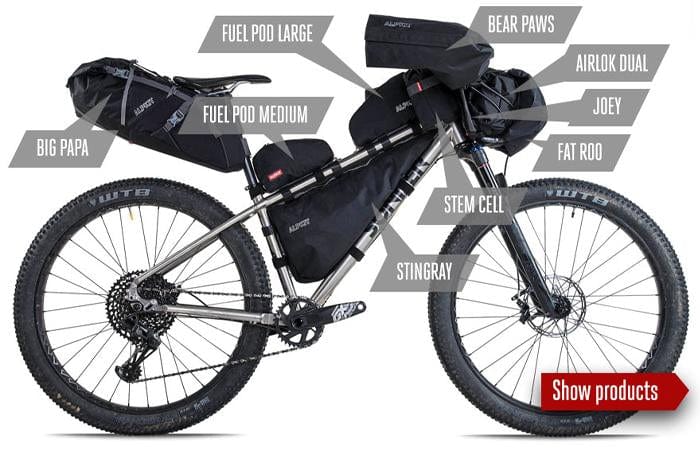 Mountain journal
Grab a brew, kick back and relax with in-depth features, tales of derring-do and Go Nice Place Do Good Things.